Reconnect dancer Karen Talcott was recently featured in the Denver Post – here is the article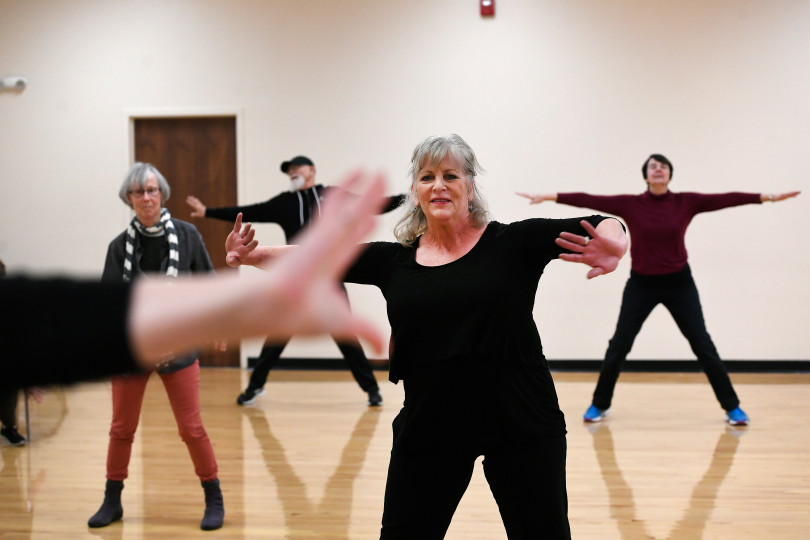 Intense exercise aids those with disease
It doesn't take long after she begins gliding across the dance floor that Karen Talcott forgets she has Parkinson's disease.
"You are trying to learn the steps and working with a partner and suddenly you become a normal person; it usually takes about 10 minutes," said Talcott, a former operating room nurse who was diagnosed with Parkinson's seven years ago, when she was 55.

Her physical symptoms, including stiffness, pain and tremors on the right side of her body, quickly evaporate once she focuses on the music in her almost daily dance classes. She also breaks other shackles brought on by Parkinson's. "The dancing also helps with fear, anxiety and depression," Talcott said. "It's the best medicine ever for this thing."
New research led by scientists at the University of Colorado Anschutz Medical Campus and Northwestern Medicine appears to back her claim. They found that high-intensity exercise three times a week is not only safe for people with early-stage Parkinson's disease, it also decreases the worsening of motor symptoms.
The results are part of a new Phase 2, multisite trial that included 128 patients ages 40 to 80, some from CU Anschutz in Aurora. Participants were at an early stage of the disease and did not take Parkinson's medication, ensuring the results of the study were related to the exercise and not affected by pills.
It was the first time scientists have tested the effects of high-intensity exercise on Parkinson's patients, said lead author Margaret Schenkman, associate dean for physical therapy education and PT program director at the CU School of Medicine at the Anschutz Medical Campus.
The study was groundbreaking in that it involved a high number of participants who exercised on a treadmill at a fairly high rate of speed, she said. "Many exercise studies are only 12 weeks in length and often the focus is on low-intensity exercises or stretching," Schenkman said.
The results could lead to new treatments for Parkinson's, the second-most common neurodegenerative disorder and the most common movement disorder. It affects more than 1 million people in the United States, according to CU.
Any new treatment is welcome, because medications for Parkinson's have adverse side effects and reduced effectiveness over time. "This is the best piece of research we've ever done, and it's produced maybe the clearest results," Schenkman said.
"If you have Parkinson's disease and you want to delay the progression of your symptoms, just a stroll isn't sufficient. You should exercise three times a week with your heart rate between 80 to 85 percent maximum. It's that simple," she said.
Parkinson's symptoms include progressive loss of muscle control, trembling, stiffness, slowness and impaired balance. As the disease progresses, it may become difficult to walk, talk and complete simple tasks. Most people who develop Parkinson's are 60 and older, Schenkman said.
Just last week, legendary singer Neil Diamond announced he would no longer tour, citing the effects Parkinson's was having on his 77-year-old body. But Parkinson's can strike at a much younger age. Actor Michael J. Fox was diagnosed with Parkinson's at age 29.
Previously, high-intensity exercise was considered too physically stressful for people with Parkinson's, Schenkman said. The study's findings are detailed in "High Intensity Treadmill Exercise in Parkinson Disease: A Randomized, Controlled Phase II Trial" published in December in JAMA Neurology.
But during the course of the trial, each participant was given a cardiologist-supervised graded exercise test to evaluate the heart's response to heavy exercise.
The patients took on a three-times-a-week exercise regimen for six months. Some were measured at high intensity, 80 to 85 percent of maximum heart rate, and moderate intensity, 60 to 65 percent of maximum heart rate. They compared the results to a control group who did not exercise.
After the six months, participants were rated by clinicians on a Parkinson's disease scale ranging from 0 to 108. The higher the number, the more severe the symptoms, according to CU.
Participants in the study had a score of about 20 before exercise. Those in the high-intensity group stayed at 20. The group with moderate exercise got worse by 1.5 points, CU said.
The group that did not exercise worsened by three points. Schenkman said three points out of a score of 20 is a 15 percent change in the primary signs of the disease and considered clinically important to patients, she said. "It makes a difference in their quality of life."
"We catch people early in the disease and are slowing them from getting worse, which is significant, particularly for a disorder that is chronic and progressive," Schenkman said.
Dr. Codrin Lungu, program director at the National Institute of Neurological Disorders and Stroke, said the CU study will help clarify which kind of exercise is best for arresting the symptom of Parkinson's. "The results are interesting and warrant further exploration of the optimal exercise regimes for Parkinson's," Lungu said.
Any kind of exercise that gets Parkinson's patients up and moving is helpful, including dance, yoga or even weight training, Schenkman said. "Doing anything is better than doing nothing at all," she said.
Talcott does ballroom dancing as well as a Reconnect with Your Body class at the Arvada Apex Center. She previously trained as a boxer, but she was forced to quit because of an injury.
Getting the body moving is vitally important to a Parkinson's patient. But just as key is the socializing that goes on each class, Talcott said. "Getting together with people, talking about what's going on and just being with people in the same situation helps so much," she said. "It helps feed your soul."