During 2016, we brought the power of dance to over 1,500 people through classes, performances, conference presentations and support group demonstrations.
"OPEN SPACE" Performance
May 26, 2017
Dairy Arts Center, Boulder
We danced for members of the Boulder dance community at this annual event put on by 3rd Law Dance/Theater, and they almost burst with joy - feeling the power of dance to heal and fill the world with love.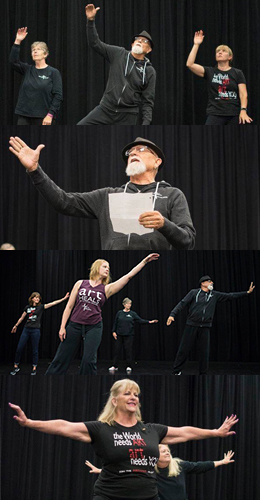 Parkinson's Symposium
April 27, 2017
Life Care Center, Longmont
Tina, Amy, Wayne, Jan and Sarah performed excerpts from  class and Wayne did some of his PD poems. We ended with a participatory flash mob to "Shut Up and Dance" and we had the 100+ attendees raising the roof!
DENVER SUPPORT GROUP PRESENTATION
March 9, 2017 at Bethany Lutheran Church
ARVADA SUPPORT GROUP PRESENTATION
March 16, 2017 at APEX Community Center
LAFAYETTE SUPPORT GROUP PRESENTATION
April 25, 2017 at Good Samaritan
RECONNECT COMMUNITY CLASS
April 30, 2017 at Colorado Conservatory of Dance
SELF SUPPORT GROUP PRESENTATION
July 12, 2017 at Bethany Lutheran Church
WEEKLY CLASSES
at APEX Community Center & Colorado Conservatory of Dance
"From Disorder to Dancer" Presentation
January 13, 2016
Movement Disorders Clinic CU Hospital, Anschutz
Wayne Gilbert and Sarah Leversee presented to the Movement Disorders Clinic staff - we shared stories, images, video and poetry showing how powerful creativity can be in dealing with illness and adversity. We received wonderful feedback from the neurologists and physical therapists that attended.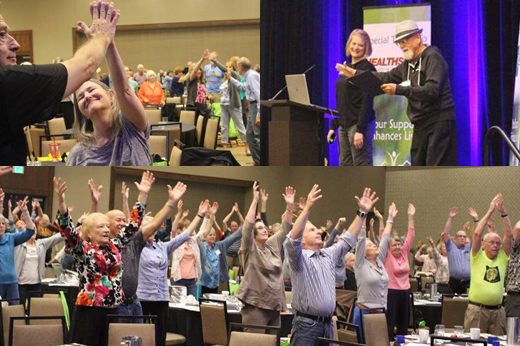 September 10, 2016
Parkinson Association of the Rockies e3 Conference
We are standing in front of over 300 people in a hotel ballroom. We are presenting about the benefits of creativity and dance for Parkinson's disease. Wayne has just performed his "p.d. dancer" poem. We invite the room to join us in moving their bodies, standing or in their chairs. The music plays. We dance together.
"DANCE FOUND" Performance
March 12-13, 2016
Colorado Conservatory of Dance, Broomfield
The Reconnect dancers brought down the house with this memorable performance.  The piece was called "Revival" and it was a barn-raiser to Nathaniel Rateliff's "S.O.B." We were invited to perform alongside alongside Colorado Conservatory of Dance's adult dancers in their annual showcase.
"body mind mystery" Performance
November 19 & 20, 2016
Broomfield Auditorium
For the third year in a row, the Reconnect dancers participated in the Artivist Process and performed in the annual Art as Action show. For body mind mystery, they performed "Love Letter to my Body" choreographed by Sarah Leversee and set to the music of Aretha Franklin.
WESTMINSTER SUPPORT GROUP PRESENTATION
February 1, 2016 at Covenant Village
EVERGREEN SUPPORT GROUP PRESENTATION
April 1, 2016 at Evergreen Christian Church
PARKINSON'S MASTER CLASS WITH JOHN DEAN
April 10, 2016 at Colorado Conservatory of Dance
LOUISVILLE SUPPORT GROUP PRESENTATION
September 27, 2016 at Balfour Retirement Community
PD EXERCISE FAIR - DENVER SELF-EFFICACY LEARNING FORUM
December 14, 2016 at Bethany Lutheran Church
WEEKLY CLASSES
at APEX Community Center
World Parkinson Congress/Dance for PD Training
September 2016
Portland, OR
Members of Reconnect attended the World Parkinson Congress, including the Renewal Room session led by Dance for PD® founding teacher David Leventhal.  Sarah helped demonstrate exercises with 5 other chosen teachers from around the globe.  While in Portland, Sarah also completed the advanced Dance for PD teacher training.
Parkinson's Symposium
October 1, 2016
Movement Disorders Clinic, CU Hospital, Anschutz
We performed at the MDC 3rd Annual Parkinson's Disease Symposium.  By the end of our performance, the audience was on their feet with their arms in the air, dancing along with us!
double click to watch full screen